~ Custom Fiber Art Classes & Retreats ~
Teaching from her studio, in the 150 year old barn, Kim offers the opportunity to create and connect through custom fiber art retreats and private classes. Students & farmstay guests may choose between classes in felting, drop spindling, fiber preparation, needle felted murals, and natural dyeing.
Kim has taught fiber art classes to a variety of people, across all professions. She has worked with:
knitwear and fashion designers from New York City, who wanted to understand the "big picture" of wool production.
professional milliners who wanted to understand the origin of wool felt-from sheep to hat.
art teachers who desired to add fiber arts to their curriculum and wanted ideas for how to introduce fiber art to young children.
parents on vacation with their children who saw the value in spending time with their child, creating, laughing, and exploring.
homeschooling families who wanted to extend their art curriculum and learn how fiber art can teach skills in other curriculum areas.
friends reuniting who desired to learn a new skill together.
families and wedding parties wanting to decompress and participate in a "team building" farm activity.
children who came to experience farm life and explore the creative process through wool and fiber arts.
---
Fiber Art Classes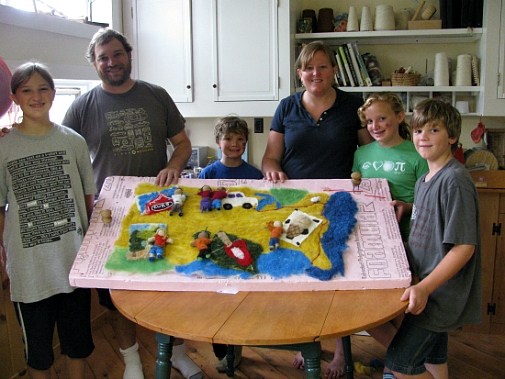 Private fiber art classes range in length from 2 hours to 5 hours. Kim has experience working with people of all ages and even enjoys teaching multi-generational classes. Please contact us at info@grandviewfarmvt.com to inquire about availability for a private class. Use the button below to see our Farmstay availability.
Fiber Art Retreats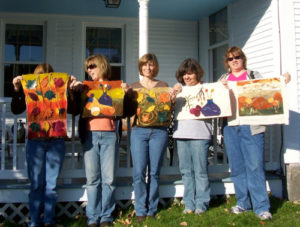 Whether planning a sister's retreat, party for the bride, family vacation, or a gathering of friends, Kim will customize mini fiber art retreats for your group. Your retreat will revolve around a multi-day fiber art workshop on the farm. Kim will work with you to plan your activities and lessons. Please contact us at info@grandviewfarmvt.com to further plan your fiber retreat. Your retreat may include:
overnight accommodations
meals
private custom class.
Events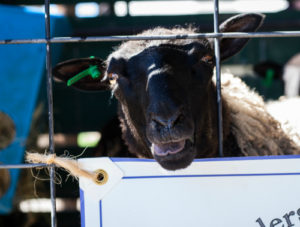 Sheep & Wool Festivals
Visit us at the following festivals:
Sept. 29 – Sept. 30, 2018
VT Sheep & Wool Festival
Tunbridge Fairgrounds, Vermont
Sept. 22 – 23, 2018
Adirondack Wool & Arts Festival
Washington County Fairgrounds
Greenwich, NY