Vermont Maple Syrup
All natural Vermont maple syrup….Vermonters call it liquid gold. We put it in and on everything- from coffee and tea to baked goods to oatmeal to a bowl of ice cream. Our farmstay guests enjoy waffles and our own maple syrup in the mornings too!
On our farm, we make our own maple syrup the old fashioned way with buckets on trees and a little evaporator in our tiny sugarhouse. We tap the trees when the daytime temperatures are above freezing and the nighttime temperatures are below freezing. We gather the sap late in the afternoon and then boil by night in our wood fired evaporator. We use dead wood that has fallen on our property to fuel the evaporator.  It takes 40 gallons of clear maple sap to make one gallon of maple syrup. Our syrup is filtered and then bottled in plastic jugs for easy shipping from our sugarhouse to your home.
Every year, we have just a little extra to share. Give it a try! You will wonder why it took you so long to discover 100% natural maple syrup!
$

12.00 –

$

18.00
Select options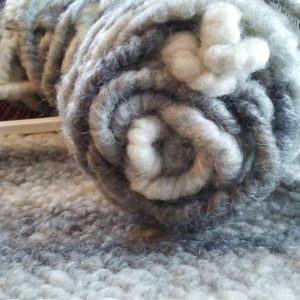 Wool Rug Yarn
Gotland Wool Rug Yarn
Still River Mill in Connecticut has processed a lovely Gotland core spun wool rug yarn for our farm using our own wool. The yarn is core spun with Romney wool wrapped around the center core and Gotland wool spun as the outer layers. Each bump of yarn showcases the three shades of Gotland gray from very pale silver to darker gray. This chunky yarn is perfect for weaving. The woven fabric gradually changes from one shade of gray to another. The yarn weaves up into lovely cozy rugs. Each bump weighs about 2 pounds and weaves a small rug of about 2 ft. x 4 ft. (Weaving dimensions vary depending upon how tightly you pack your weft.)
Would you like to own a Gotland wool rug but do not want to weave it yourself? We are happy to weave a rug for you. We charge $25/square foot for a finished woven rug. Email Kim at info@grandviewfarmvt.com to inquire about purchasing a finished rug.
Once you have your hand woven rug, we suggest you care for it by:
-shaking it out regularly
-put a nonslip mat underneath it
-never use the brush attachment on your vacuum
-dry clean when needed
-hang it outside in the sun for several hours once a year.
$

95.00
Add to cart