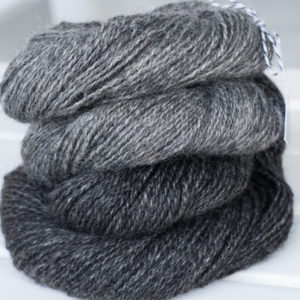 Gotland Silk Yarn
This luxurious blend of our Gotland wool and silk brings out the qualities unique to both fibers: silkiness, luster, and soft handle. The silk gives a heathered look to the yarn, adding dimension and depth to its color. It is spun in a 2 ply fingering weight with approximately 180 yards on a skein. Perfect for elegant lightweight shawls, scarves, and cowls.
$

22.00
Select options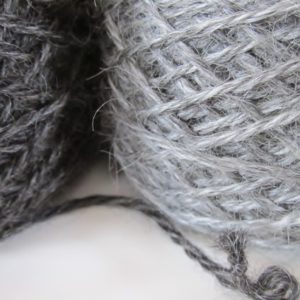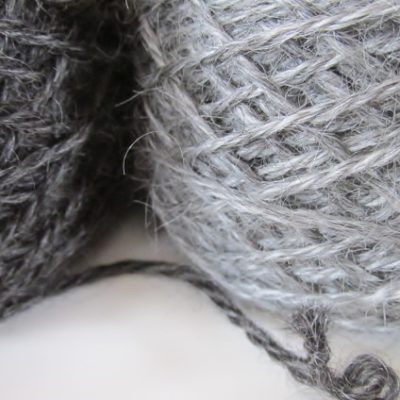 Gray Gotland Yarn
Gotland sheep produce lustrous long curls in varying shades of gray from light silver to deep charcoal. The yarn has a very silky handle and a lovely drape when knit. This light shade is a true heathered gray, reminiscent of the mist that forms over the mountains on our farm in Vermont. The mill spun this wool in a 3 ply worsted weight. Each skein weighs approximately 3 oz. with ~110-120 yards to the skein. We have a limited number of skeins, so please order for your entire project.
Read more about this special breed of curly sheep from Sweden under "History of Gotlands".
$

17.00
Select options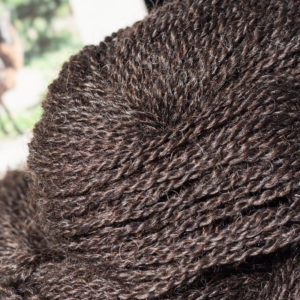 Natural Colored Border Leicester Farm Yarn
Border Leicester Farm Yarn for Sale
Molly and Mable, two lovely natural colored Border Leicester ewes, came to live at VT Grand View Farm last fall. They have produced lovely chocolaty brown wool yarn with all the qualities unique to the Border Leicester breed: luster, softness, and squishy goodness! This beautiful farm yarn will not last long!
This yarn is spun in a 2 ply, worsted weight. Each skein contains approximately 250 yards. We have limited quantities so be sure to order enough for your project!
$

28.00
Add to cart