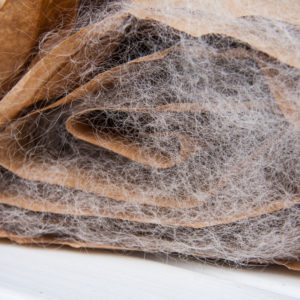 Gotland Wool Felting Batt
Many fiber artists enjoy using Gotland wool for their felting projects. Gotland wool felting batts allow for quick layout of projects. The wool felts very quickly and easily. Our felting batts are prepared by a small local Vermont fiber mill. They are very soft and come rolled in brown paper. Each roll weighs between 8 oz. and 8.8 oz. The batts may be easily pulled apart into multiple thin layers of wool. We currently have felting batts in two shades of gray: medium pewter gray, and very pale silver gray. The pale silver has flecks of black throughout the batt. The wool is clean and free of vegetation matter. I have used our Gotland felting wool for making hats, slippers, and vests.
$

36.00
Select options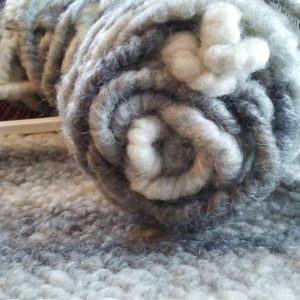 Wool Rug Yarn
Gotland Wool Rug Yarn
Still River Mill in Connecticut has processed a lovely Gotland core spun wool rug yarn for our farm using our own wool. The yarn is core spun with Romney wool wrapped around the center core and Gotland wool spun as the outer layers. Each bump of yarn showcases the three shades of Gotland gray from very pale silver to darker gray. This chunky yarn is perfect for weaving. The woven fabric gradually changes from one shade of gray to another. The yarn weaves up into lovely cozy rugs. Each bump weighs about 2 pounds and weaves a small rug of about 2 ft. x 4 ft. (Weaving dimensions vary depending upon how tightly you pack your weft.)
Would you like to own a Gotland wool rug but do not want to weave it yourself? We are happy to weave a rug for you. We charge $25/square foot for a finished woven rug. Email Kim at info@grandviewfarmvt.com to inquire about purchasing a finished rug.
Once you have your hand woven rug, we suggest you care for it by:
-shaking it out regularly
-put a nonslip mat underneath it
-never use the brush attachment on your vacuum
-dry clean when needed
-hang it outside in the sun for several hours once a year.
$

95.00
Add to cart