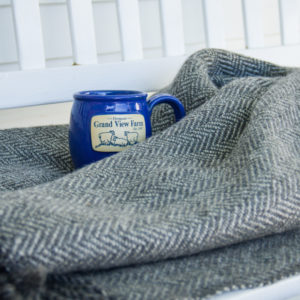 Gotland Wool Handwoven Blanket
Gotland Wool Handwoven Blanket
Our Blanket's Story
Each blanket begins with a shepherd and her Gotland sheep, grazing on the mountainside pastures at Grand View Farm in Vermont. She tends to them throughout the year, caring for their lambs and tending to their pastures. In the spring, they are sheared, and the shepherd carefully skirts the fiber, and ships it to a small family mill. The mill spins the wool according to her specifications for weaving. Each blanket is hand woven in Vermont on a floor loom, with special attention to every detail. Every inch of the blankets contain a piece of Grand View Farm, and the lives of those who care for the sheep.
The Weaver
This elegant handwoven blanket is crafted by a friend and textile artist named Jane Woodhouse. We collaborated with Jane to design the perfect farm to home Vermont heirloom blanket. Jane raises angora goats on her Vermont farm and has been production weaving for the past 30 years. We selected a herringbone weave pattern to showcase two shades of our Gotland gray yarn, raised right here on our farm.
Caring for Your Blanket
We suggest airing your blanket outside on a sunny day at least once a year. If soiled, wash and rinse with cold water, using a mild soap. Do not agitate while washing, but rather let it soak in the water. Line dry.
Specifications
The blanket has a lovely drape and silkiness common to Gotland fiber. The long fringe on each end of the blanket measures about 4 inches. The blankets measure approximately 62 inches in length and 35 inches in width, perfect for keeping the winter chill out.
Wrap yourself in the warmth of our Gotland wool!
$

375.00
Add to cart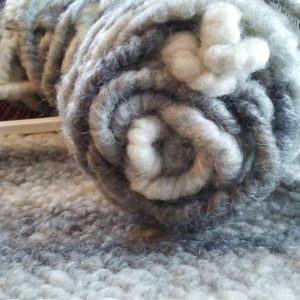 Wool Rug Yarn
Gotland Wool Rug Yarn
Still River Mill in Connecticut has processed a lovely Gotland core spun wool rug yarn for our farm using our own wool. The yarn is core spun with Romney wool wrapped around the center core and Gotland wool spun as the outer layers. Each bump of yarn showcases the three shades of Gotland gray from very pale silver to darker gray. This chunky yarn is perfect for weaving. The woven fabric gradually changes from one shade of gray to another. The yarn weaves up into lovely cozy rugs. Each bump weighs about 2 pounds and weaves a small rug of about 2 ft. x 4 ft. (Weaving dimensions vary depending upon how tightly you pack your weft.)
Would you like to own a Gotland wool rug but do not want to weave it yourself? We are happy to weave a rug for you. We charge $25/square foot for a finished woven rug. Email Kim at info@grandviewfarmvt.com to inquire about purchasing a finished rug.
Once you have your hand woven rug, we suggest you care for it by:
-shaking it out regularly
-put a nonslip mat underneath it
-never use the brush attachment on your vacuum
-dry clean when needed
-hang it outside in the sun for several hours once a year.
$

95.00
Add to cart