Gotland Sheep
Originally from an island on the Baltic Sea off the coast of Sweden, Gotland sheep are known for their hardiness, strong mothering characteristics, and friendly personalities. Clean black faces peer from behind lustrous, long, silky gray curls. Considered a dual purpose breed, Gotland lambs are described as vigorous and active, and grow out quickly for market with pelts and wool highly desired by fiber artists. Ewes weigh between 120 and 150 pounds, with rams typically weighing in from 160 to 190 pounds. Gotland sheep make the perfect breed for fiber artists and small family farms.
Upbreeding Gotland Sheep in the United States
Gotland semen has been imported into the United States from New Zealand, England, and Sweden, and foundation ewes selected for artificial insemination, allowing shepherds to become involved in an effort to establish the Gotland breed in America. Breeders, attentive to the Gotland characteristics, have been selectively upbreeding for many years.
Vermont's First Flock of Gotland Sheep
Vermont Grand View Farm welcomed the first flock of Gotland sheep into the state of Vermont during the summer and fall of 2014. Our initial flock consists of high percentage ewes ranging from 81% to 93.75% Gotland. Our rams are 95.3% and 94.5%. Through careful selection, natural breeding, and occasional artificial insemination, our flock will continue to grow nearer to 100% Gotland genetics while remaining true to the Gotland characteristics. At this time, we offer high percentage, registered Gotland sheep for sale.
Gotland Sheep for Sale
Why purchase sheep from Grand View Farm?
Passionate about our sheep, we want to make your purchase as pleasant and stress free as possible, whether you are a veteran or a new shepherd.
We will happily mentor you, answering your questions about sheep care.
We provide you with registration papers so you can easily transfer ownership.
Health records come with the purchase of each sheep. We conduct a fecal egg count 2 weeks prior to pick up and treat for parasites if needed.
If purchasing 2 or more sheep, you will get a free membership into GSBANA.
Customer living more than three hours away, are invited to a one night's stay in one of our in our  Farmhouse Suite bedrooms. That way, customers do not have to travel a great distance in one day.
(Customers from out of state will have to pay for a health certificate for each sheep purchased and castration if purchasing a wether.
2018 Gotland Lambs for Sale
Please email for pricing and to be put on our waiting list. info@grandviewfarmvt.com
Luna, one of our 2017 ewe lambs, won 6th place out of 15 in the NY Sheep Show! Thank you to everyone who came out to cheer us on in the stands!
Memberships

Flock Guardian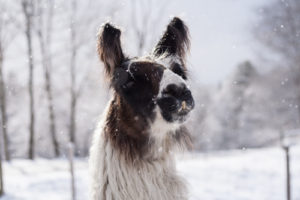 Llamas naturally exhibit guardian behaviors when bonded with a flock of sheep. Alaska, our llama, protects our sheep from predators. She watches over the perimeter of our fence line with attentive eyes and ears. When she senses danger, she sounds her alarm call and gathers all the sheep together in a safe location.