Needle Felting Pattern – Sheep Guardians
$15.00
We are thrilled to be able to offer this needle felting pattern from a local Vermont fiber artist, Neysa Russo. Neysa creates amazing needled felted tapestries using her own designs and patterns. This lovely pattern, The Sheep Guardians, comes traced on heavy paper for you to transfer to your choice of medium. The bold lines make it easy to trace onto aida cloth, needlepoint canvas, or our white pre-felt. The design measures 21 x 31 inches.
Pictured, you will see the finished tapestry that I felted using Neysa's pattern.
5 in stock
You may also like…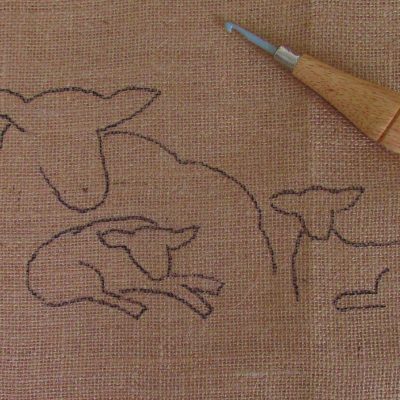 Ewe and Lambs Rug Hooking Kit-large
This winter I have had fun doing some rug hooking with our Gotland fleece and yarn. I have designed two patterns to share with you!
This sweet Gotland ewe and her twin lambs kit comes with a primitive hook, and the sheep pattern drawn onto a piece of Scottish Burlap and stretched onto a wooden frame. It also comes with a handful of our Gotland fleece. All you need to add is some yarn for the back and legs and yarn for the background.
Once you have completed the design, use a flat screwdriver to lift the staples from the wooden frame, releasing the burlap. Then you may either turn it into a pillow or a small wall hanging! I have pictured my rug hooking in progress for some inspiration! The reusable wooden frame measures 12 inches x 14 inches.
$

29.00
Add to cart